Intelligent functions and ultimate convenience
Touch, turn & go. Quick setup in three steps. On this site we have comprehensibly gathered the corresponding equipment of the two model variants SingleDISPLAY and TwinDISPLAY.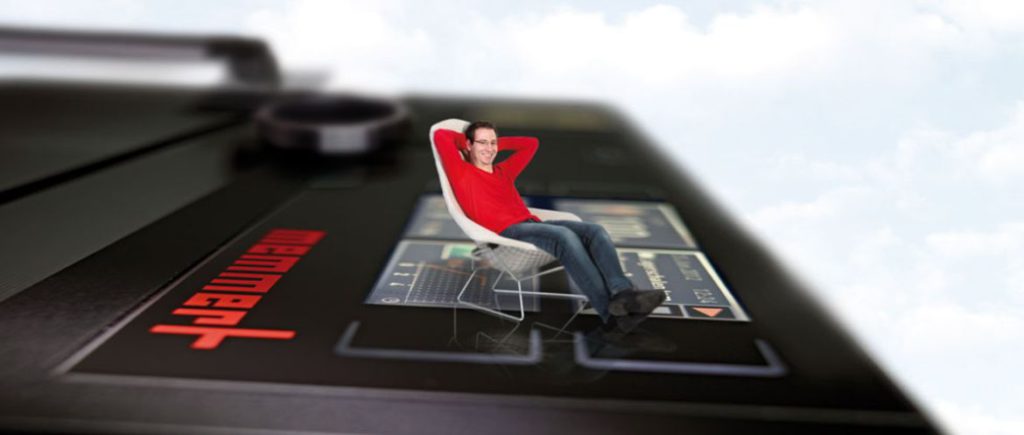 SingleDISPLAY for standard applications
Temperature, air flap position and fan speed remain at a constant value throughout your process? You have no need for ramp programming or loops? You only have to dry insensitive materials and require neither multiple overtemperature protection nor a technically complex alarm system? Then the functions of Memmert's model variant SingleDISPLAY will be perfect for your application. Expect outstanding precision and reliability paired with intuitive operation plus double overtemperature protection including visual alarm.
TwinDISPLAY maximum convenience for complex processes
For many years to come the equipment of Memmert's model variant TwinDISPLAY will leave nothing to be desired regarding function range, convenience and safety. Via the intuitive control and logging software AtmoCONTROL even complex processes can be programmed quick and easy.  Multiple overtemperature protection, visual and acoustic alarm as well as possibly sending an automatic alarm message to one or several e-mail addresses will leave you with time for things that really matter. Your work.
These highlight functions have got what it takes
The SetpointWAIT function safeguards, that the process time does not start before the set temperature is reached. This feature may also be used including additional, freely positionable Pt100 sensors. In that case process time starts when the set temperature is reached at all measuring points – that is directly on the chamber load. Certain standard applications require controlled fan function and fixed air exchange rates. Therefore, all TwinDISPLAY appliances can optionally be equipped with a fan speed monitoring system. Last, but not least, the HeatBALANCE function permits application-specific adjustment of heating power distribution (balance) between the upper and lower heating groups.
Model variant SingleDISPLAY and TwinDISPLAY in comparison
Scope of functions SingleDISPLAY
ControlCOCKPIT with one TFT-Display
Scope of functions TwinDISPLAY
ControlCOCKPIT with one TFT-Display
Scope of functions SingleDISPLAY
ControlCOCKPIT with one TFT-Display
Scope of functions TwinDISPLAY
ControlCOCKPIT with two TFT-Displays
Available parameters on the ControlCOCKPIT: Temperature (Celsius or Fahrenheit), fan speed, exhaust air flap position, programme time, time zones, daylight-saving time
Available parameters on the ControlCOCKPIT: Temperature (Celsius or Fahrenheit), fan speed, exhaust air flap position, programme time, relative humidity, illumination, CO2, O2, pressure, time zones, daylight-saving time
One temperature sensor Pt100 DIN class A in a 4-wire circuit
Two Pt100 sensors DIN class A in a 4-wire circuit for mutual monitoring, taking over functions in case of an error
HeatBALANCE function for application specific adjustment of heating power distribution (balance) between the upper and lower heating groups in an adjustment range between -50 % and +50 % (does not apply to size 30, HPP110, IPP110plus, ICP, ICH))
Software AtmoCONTROL for data read out and programming of the data logger via Ethernet interface (temporary trial version as free download). USB pen drive with software AtmoCONTROL available as accessory
Software AtmoCONTROL on USB pen drive for programming, managing and transferring of profiles via Ethernet interface or USB port.
ControlCOCKPIT with USB port for uploading programmes, reading out protocol logs, activating the User-ID function
Displaying of already logged protocol data on the ControlCOCKPIT (max 10,000 values correspond to approx. 1 week)
Ethernet interface on the rear of the appliance for reading out the protocol log and for online logging
Ethernet interface on the rear of the appliance for reading out the protocol log and for uploading and implementing programmes and for online logging
Double overtemperature protection: Electronic temperature monitoring with freely adjustable monitoring temperature, for models U, I, S with option A6 TWW/TWB (protection class 3.1 or 2), mechanical temperature limiter TB acc. to DIN 12 880
Multiple overtemperature protection: Electronic temperature monitoring TWW/TWB (protection class 3.1 or 2 resp. 3.3 for units with active cooling) and mechanical temperature limiter TB (protection class 1) acc. to. DIN 12 880, AutoSAFETY automatically adjusts to the set value within a freely adjustable tolerance range. Setting individual MIN / MAX values for over/undertemperature and also for all other parameters such as relative humidity, CO2
Structured stainless steel housing, rear of zinc-plated steel, ControlCOCKPIT for operation and adjustment of all parameters
High-temperature connectors on the rear of the appliance for single-phase power connection according to country specific systems and IEC standards
Internal data logger with a storage capacity of at least 10 years
German, English, French, Spanish language settings available on the ControlCOCKPIT
Digital backwards counter with target time setting, adjustable between 1 minute and 99 days, 23 hours
The SetpointWAIT function guarantees that the process time does not start until the set temperature is reached at all measuring points – optional for temperature values recorded by the freely positionable Pt100 sensors inside the chamber
Adjustment of three calibration values for temperature and additional appliance specific parameters directly at the ControlCOCKPIT (e. g. relative humidity)